Armenia's state human rights ombudsman, Karen Andreasian, on Tuesday condemned as illegal the controversial closure of kiosks in Yerevan ordered by Mayor Karen Karapetian.
In a written statement, Andreasian accused municipal officials and riot police of committing "blatant violations of human rights" during the forcible dismantling last week of several such small shops located on a street in the city's northern Arabkir district.
The police used force to overcome strong resistance put up by their angry owners on August 10. The resulting public uproar led Prime Minister Tigran Sarkisian to demand explanations from Karapetian at a meeting of his cabinet held the next day.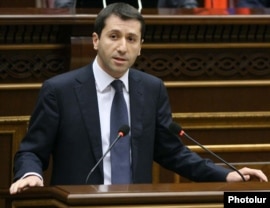 Armenia — Karen Andreasian, the newly elected human rights ombudsman, addresses parliament, 2Mar2011.
Karapetian said that the municipal authorities are only dismantling those businesses that lack valid government licenses or are located on "central streets" and "interfere with the normal work of the city."
Andreasian insisted that many of the kiosk retailers who have received closure notices from the mayor's office legally own their commercial space. Attempts to strip them of their property are a serious violation of Armenia's constitution and laws, he said.
"Furthermore, facts at our disposal show that during those inadequate actions police officers used violence against women present at the scene," he added.
In separate comments to RFE/RL's Armenian service (Azatutyun.am), Andreasian said the municipal administration must stop demolishing legal kiosks. "All dismantled kiosks that operated legally must be restored or their owners must receive adequate compensation," he said.
The ombudsman also called for government assistance to kiosk owners that lack official documents certifying the legality of their business.
Karapetian's office could not be reached for comment.
The Armenian police, for their part, said they are looking into the matter. A spokesman told RFE/RL's Armenian service that the police chief, Alik Sargsian, has ordered his subordinates to "clarify the mentioned circumstances."
Also raising questions about the legality of the kiosk closures is the fact that Karapetian issued his controversial order earlier this year orally. Some lawyers say this alone constitutes a serious violation of property rights guaranteed by Armenian law.
Both Karapetian and Sarkisian said last week that the several thousand kiosks operating in Yerevan will not be shut down en masse. "There will be individual approaches and kiosks will be dismantled only in case of extreme necessity, if they don't create problems for the municipal infrastructure," the prime minister said.
Nevertheless, several dozen small shopkeepers gathered outside President Serzh Sarkisian's office on Tuesday to condemn the mayor's actions and appeal for the Armenian leader's personal intervention.
Some of the protesters were received by Hovannes Hovsepian, chief of the presidential Oversight Service. One of them told RFE/RL's Armenian service that Hovsepian defended the kiosk closures.
"He said that he personally agrees with the mayor, that the city must be tidied up and look nice, that the kiosks hamper that," said the woman, who did not want to be identified.
"To our question about how the kiosks owners are to live now … he replied that the city's appearance is more important," she claimed.
Source: RFE/RL – Originial Article
Related posts: